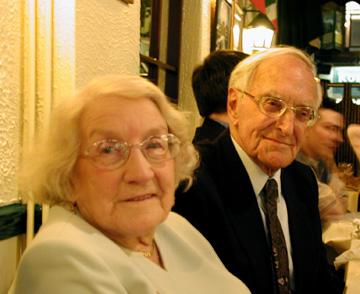 THE HAMERS
Recent photos of the Hamers.
Photos of the greatgrandparents, George (died 1964) and Maud (died 1948).
Other old photos.
Various other photos.
A black-and-white movie made in the early 1960s using a 9.5mm film* camera (18MB file).
* The 9.5mm format was already being replaced by 8mm when we bought the camera second-hand.
9.5mm film was withdrawn from the market after this film was made. So this is the only film we made.
The transfer to video was done much later by a company in Bath who advertised that they could handle
any film format, including 9.5mm. As you can see from the result, "handle" in this context did not appear
to mean "we have an actual 9.5mm telecine unit", but rather "we have an old 9.5mm projector and we can
point a camcorder at a screen as well as the next man".